"This is an incredible class, my kid has improved so much in confidence and ability over just a few classes. the teacher is amazing, holding together a mixed ability class with a real ability to understand each student's needs. Highly recommend."
Where are group lessons available?
At your local skatepark
We run group skateboard lessons at skateparks across London and the south coast.
Let us know if you'd like to start a group near you!
Peckham HQ
We run group lessons at our HQ at Copeland park, Peckham. This is our year round option, because the weather can't spoil the fun.
Learning to push at a group beginner skate lesson
Why join a group skateboard lesson?
---
Affordable
Our beginner lessons are only £12 and we provide all the gear, so you can find out if you want to invest in your own skateboard setup.
Friendly
Join a group skateboarding lesson. Some of us like doing things together. Bring friends, or make them.
Convenient
Pay as you go. No need to commit a lot of cash. Come when it's convenient.
Beginner group lessons
During the beginner group lesson you will focus on the Beginner Skateboarding Skills.
We usually have returning students in the class and we give you level-appropriate tuition alongside the other participants. This is bread and butter stuff for us.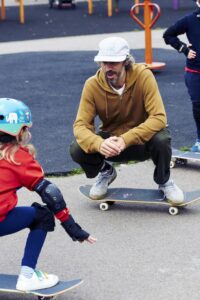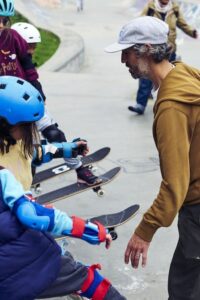 Progressing group lessons
To come to the progressing group lessons you will need
To pass your beginner grading, you need to know how to drop in. If you have any questions about this please don't hesitate to ask.