Which lessons should I go to?
We often get asked which lesson to go to, or when you can start going to the Progressing Lessons. To join the Pro Lessons you need to pass the beginner grading. There are a few tasks you need to be graded on.
If you haven't done it yet, the first thing you need to do is to set up your free learning account and enrol to the Beginner Course. We have more details about how to do this.
What do I need to do for my Beginner Grading?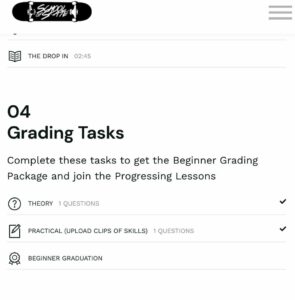 In your learning account you will find a section called 'Grading Tasks' where you will find there is a theory and practical element to your grading.
1. The practical – perform The Drop In
The most important is that you must learn The Drop In on a quarter-pipe unassisted. You need to record a video clip and submit it. The easiest way to do this is to upload it to Instagram and tell us your Instagram account name so we can check it, or you can submit via Whatsapp.
2. The theory
There are also a few questions you need to answer on the things you've learnt in lessons or in your Learning Account.
3. Order your Beginner Grading Package
When we have graded the two above tasks and you have passed, you can order your Grading pack which will include your exclusive School Of Skate T-Shirt and a sticker pack.